Clinical Updates

Placing Wellness at the Forefront
Training to become a veterinary specialist is an intense and rigorous time in a young veterinarian's career. Interns, fellows, and residents — collectively referred to as "house officers" — spend one to four years concentrated on a specific area of veterinary medicine, with most seeking to become board-certified. However, those years can be filled with long hours and challenging cases, often taxing a veterinarian's well-being.
"Thankfully, the topic of wellness is making its way to the forefront of veterinary medicine," said Dr. Ashley Sharpe, one of two chief house officers at the UC Davis veterinary hospital. "The innate hardships of a career in medicine and the specific challenges associated with specialty training often lead to mental health challenges including burnout, anxiety, 
and depression."
Sharpe, along with fellow chief house officer Dr. Zachary Turner, are joining UC Davis faculty and staff to combat these issues at the school by implementing cultural and institutional changes in the house officer program. For the first time, chief house officers have been elected to the school's House Officer Advisory Board, to represent their colleagues and provide critical insight into the training programs.  
The school has also formed the House Officer Wellness (HOW) program. Led by hospital Client Support and Wellness Professional Florence Soares-Dabalos, and funded by Boehringer Ingelheim Animal Health, the HOW program identifies areas for targeted improvement in house officer well-being. The group organizes social events to foster camaraderie and support among the team and looks to improve the house officer orientation program to equip new personnel to thrive in the exceptional hospital work environment.
"The wellness program and research that Ms. Soares-Dabalos is putting together is really well thought out," Turner said. "I expect to see progressively more positive effects on mental health for our house officers."
The funding will also allow Soares-Dabalos to be available an additional day each week to provide support for house officers, including referrals to healthcare providers and community resources. Other initiatives implemented by Soares-Dabalos include drop-in appointments, monthly wellness education groups, and self-administered depression and quality of life screenings — all with the goals of promoting happiness and self-care; increasing peer support; and decreasing psychological distress, compassion fatigue, and burnout.
"Improving house officer well-being lies at the foundation for excellent patient care, positive client experiences, successful interpersonal relationships, and ultimately the advancement of our program and veterinary medicine," Sharpe said.
---
Canine Heroes
Early in the COVID-19 pandemic, stay-at-home and social distancing orders left the UC Davis Veterinary Blood Bank in a shortage of canine blood products (plasma, red blood cells, and platelets). Nearly 40 faculty, staff, and students from the school volunteered their dogs to be screened as potential blood donors. Twenty dogs met the minimum standards, and of those, 12 had the correct type sought.
One of those dogs was Walter, a 1-year-old Labrador retriever owned by veterinary technician Amanda Dang. Walter's donation saved Bailey, a 7-year-old Shih Tzu.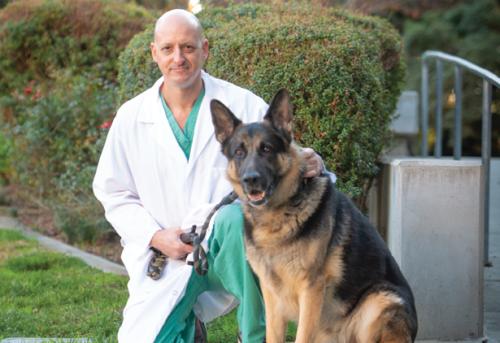 During her hospitalization, Bailey was diagnosed with immune-mediated hemolytic anemia. This is a condition that causes the body to destroy its own red blood cells, which are responsible for carrying oxygen to all tissues of the body.
When Bailey recovered after her blood transfusion, she and Walter were able to meet and spend some time playing with each other.
In 2008, the Veterinary Blood Bank began enrolling donor dogs in the community. The donations from hundreds of dogs over the years have helped thousands of hospitalized recipients in need of blood for a wide variety of conditions, ranging from surgical complications to kidney failure. 
UC Davis operates the largest community-based veterinary blood bank in the western United States. The hospital collects, processes, and stores canine blood needed for transfusions to treat a variety of conditions.
If you are local to the Davis area, consider having your dog become a hero. Blood donor dogs must be 1–8 years old, weigh at least 55 pounds, and be in excellent health.
To learn more, please call the hospital at 530-752-1393, or email the veterinarybloodbank@ucdavis.edu.
---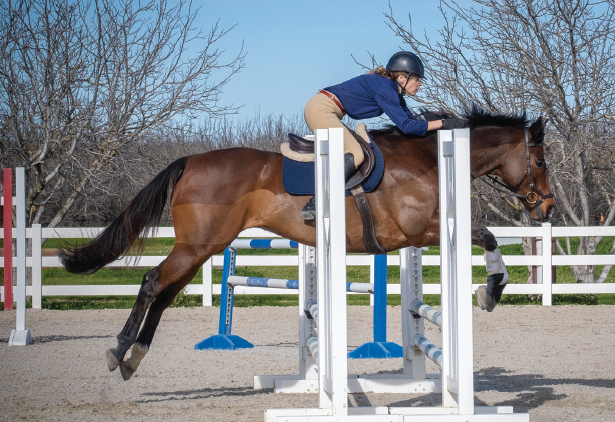 Giving Equine Athletes a Second Chance
Nighttime Olympics' exciting career as a Thoroughbred racehorse encompassed 25 starts and nearly $150,000 in prize money. When his racing days were over and he came up for sale as an 8-year-old, new owner Anissa Nachman believed he would be a good candidate for low-level eventing competitions. But while his spirit seemed enthusiastic, after years of racing, Night's body was in need of care to become a sound athlete again.
Dr. Sarah le Jeune and the Equine Integrative Sports Medicine Service developed a comprehensive treatment plan to address Night's stiffness and mild overall soundness issues. Le Jeune's plan initially included joint injections to address local inflammation followed by regular chiropractic treatments to address soreness; medications to slow bone degradation; routine farrier visits to ensure proper shoeing; and intramuscular injectable medication to manage his swelling, pain, and lameness. A proper saddle fit session for Night was also conducted, as this often-overlooked non-medical component can lead to soreness and subpar performance.
With continued maintenance and chiropractic appointments, Night is now confidently jumping and is nearly ready for competition.
Sports medicine specialists are becoming increasingly vital to the success of equine athletes, and le Jeune is at the forefront, setting the standard of care. As a world leader in equine health, UC Davis looks to expand to even greater heights with the new Equine Performance and Rehabilitation Center as a cornerstone of the future Veterinary Medical Center. This state-of-the-art facility will allow le Jeune and other UC Davis equine specialists to advance their practices and improve the lives of horses like Night.
---
Advancing Cat Care
Cats make up a significant portion of the veterinary hospital's caseload. Recently, the hospital opened the Feline Treatment and Housing Suite which transformed the hospital's ability to provide optimal feline patient care. Accompanying that are dozens of clinical trials over the past few years to seek new treatments and cures for diseases and conditions that affect millions of cats. Philanthropic partnerships and individual donations have played a significant role in the school's ability to advance feline health.

Dr. Karen Vernau, faculty advisor for the Orphan Kitten Project, is conducting multiple collaborative clinical trials to study a spectrum of feline health issues. Atlas, a newborn kitten, was treated for an ocular infection brought on by a severe upper respiratory tract infection. 
Vernau and ophthalmologist Dr. David Maggs are testing an oral drug, successfully used to treat eye infections in older cats, but with limited history of use in kittens. As predicted, the medication worked well to completely clear Atlas' eye infection and save his sight.
Additional trials conducted by Vernau are looking at the effects of early life experience on growth, health, and behavior of orphaned kittens; testing the efficacy of a probiotic to reduce diarrhea, as well as an oral medication to treat ringworm; and improving the care of kittens with hypothyroidism.
Cardiologist and Chief Veterinary Medical Officer Dr. Joshua Stern has dedicated much of his career to studying feline hypertrophic cardiomyopathy (HCM), a congenital heart disease that affects 1 in 7 cats. His clinical trial to evaluate the effects of a novel drug therapy on HCM is the first study developed in many years specifically for cats with the disease. 
A decade ago, oral surgeon Dr. Boaz Arzi began a mission to find a cure for feline chronic gingivostomatitis (FCGS), a painful oral inflammatory disease. He led a team of scientists to develop a novel treatment technique for FCGS using stem cells. After many clinical trials were conducted throughout the country and internationally, Arzi's team received patent approval for the stem cell product in Europe and is currently negotiating approval in the United States. The multiple clinical trials have yielded positive results in up to 70% of cats treated.
Many of these studies were funded by generous donations to the UC Davis Center for Companion Animal Health.