Leader in the Making
Ferdie Liard Ramirez - UC Davis Veterinary Medicine Student
Starting a new chapter when you are 3,500 miles from home is tough. For Ferdie Liard-Ramirez, Class of 2021, beginning his first semester of veterinary school at UC Davis when Hurricane Maria hit his birthplace of Puerto Rico, made it even harder. But no matter where he is, Liard-Ramirez finds strength in family—from his parents who always supported his dream of becoming a veterinarian, to his chosen veterinary school family of friends.
Inspired to become a veterinarian by his uncle, a former veterinary technician, Liard-Ramirez wasn't sure what to expect when he came to California. Although well prepared for the academic rigor by his undergraduate experience in molecular biology, he admits that the first few months were overwhelming and he was very homesick. Establishing a close-knit group of friends became the key to making Davis feel like home.
"I've created my own family here," Liard-Ramirez said. "I didn't expect to have that amount of connection with people here. They really rallied for me, since the very beginning."
Whether hiking at Lake Berryessa, working out at the campus Activities and Recreation Center, taking trips to San Francisco, or watching the latest episode of "Stranger Things" together, Liard-Ramirez and his friends encourage each other to prioritize their mental and physical health. He loves to share traditional Puerto Rican drinks and desserts with his friends at the holidays, and learning about their cultures in turn has widened his worldview and encouraged him to travel. In fact, he says that in the past three years he has traveled more than ever before, exploring Europe this summer and planning trips to Mexico and Canada later this year.
With his family dog at home in Puerto Rico, Liard-Ramirez embraces his role as "Uncle Ferdie" to his friends' pets. He loves spending time with his four-legged "nieces and nephews" between classes, on the weekends, or when his friends are traveling. These interactions keep him grounded and provide reasons to smile, even on challenging days.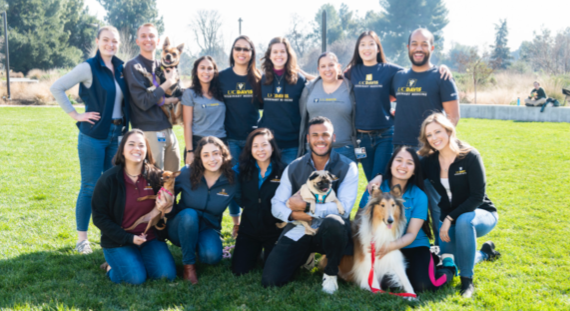 His career aspirations include returning home to Puerto Rico to work with small animals and companion exotics. Liard-Ramirez and other college friends from the island in vet school around the world have formed a group to educate and encourage young people in Puerto Rico interested in veterinary medicine.
His advice for them: "It's ok to be scared. Some things are going to be different, but you're going to get used to it really quickly. You're going to find a good support system and you're not going to be alone."