Philanthropy at Work - Fall 2020
Love of All Species Inspires Gift
by Carolyn Sawai
Animal therapist Adrienne Herman's bond with animals, especially dogs, began at age five with her first pup, a rat terrier mix. He became her constant companion for 14 years, even showing up at school to find her during the day.
"He taught me so much about how to listen to dogs and become attuned to their needs," Herman said. "That was more than 60 years ago and I've had many dogs since! They've all taught me different lessons on how to help them lead healthier, happier lives."
For the past 32 years, Herman has put those lessons to work in her therapy sessions with many four-legged companions, including dogs, cats, goats, horses, rabbits and even some amphibians. She uses her intuition as an animal communicator in conjunction with referrals to veterinary experts to help animals live their best lives.
Take the example of Jypsy, a Yorkshire terrier. Five years ago, Jypsy was experiencing anxiety, digestive issues, and skin sensitivities. Concerned owner Lori Mazzuca brought her to see Herman, who helped determine the cause of Jypsy's stress and reason for her symptoms. Thanks to therapy sessions with Herman, and treatment from a veterinary dermatologist and an integrative medicine specialist, Jypsy is healthy again and back to her spunky self. She loves visiting Herman to say hello and give her a few kisses of gratitude.
"We wish our dogs could talk to us – telling us what hurts and what they want," Herman said. "They give us that look, and we know they're trying to tell us something. I use what they communicate to me and what I sense to help them."
Herman's connection to the UC Davis veterinary hospital began more than 20 years ago when she brought in Rodin, her beloved standard poodle, on the advice of his primary veterinarian. Rodin had been energetic and adventurous until a spinal condition caused sudden paralysis. UC Davis specialists performed surgery that enabled him to walk again.
"I can't say enough good things about the School of Veterinary Medicine," Herman said. "My experience in bringing Rodin here was amazing. The veterinary team gave him excellent and compassionate care and helped restore his quality of life."
Since that initial experience, Herman has stayed connected with the school to learn about the latest research advancing animal health and treatment innovations. Rodin's care at the hospital and subsequent recovery inspired Herman to support a major project of the new Veterinary Medical Center - the All Species Imaging Center - that will provide cutting-edge care for animals from parakeets to Thoroughbreds.
"In addition to dogs, animals of all species have a special place in my heart," Herman said. "I know that the All Species Imaging Center will help so many animals get the treatment they need. If my gift helps in a small way to make this happen, I am grateful to be in a position to contribute."
For most of her life, Herman has been involved in professions that help others. Using her degrees in psychology and education, she taught middle school and was a special needs coordinator. Her work as an animal therapist follows this continuum by helping animals reach an optimum level of joy and health.
"We are deeply grateful to Adrienne for her generosity and for making a difference in helping the animals we all love," Dean Michael Lairmore said. "We're inspired by our clients' devotion to their animals to push the limits of veterinary medicine to increase knowledge and provide optimal care. With Adrienne's partnership, the UC Davis Veterinary Medical Center will be unlike any in the world - a center of healing, innovation, and discovery."
---
All Species Imaging Center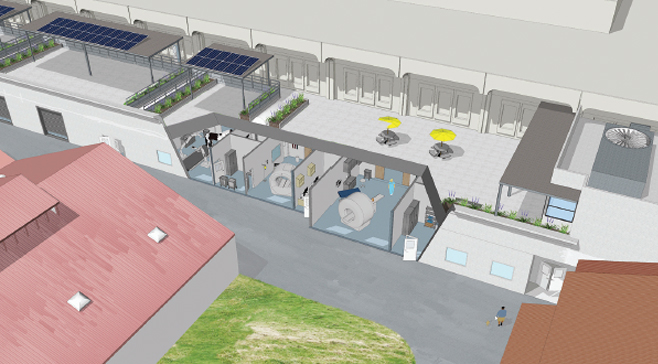 The All Species Imaging Center, critical to our suite of hospital clinical specialties, will be centrally located in the new Veterinary Medical Center to serve patients large and small. The strategic placement of imaging technology and expertise will expedite diagnosis and patient care, reduce stress and wait time for our patients, and optimize operational efficiencies.
Advanced imaging is fundamental to patient care across multiple disciplines including surgery, oncology, neurology, ophthalmology, and many others. New imaging modalities such as positron emission tomography (PET) will enhance our technical expertise and strengthen the recruitment of excellent faculty and staff. This new center will bring together veterinarians, physicians, researchers and other multidisciplinary scientists to enhance the health of animals and people.