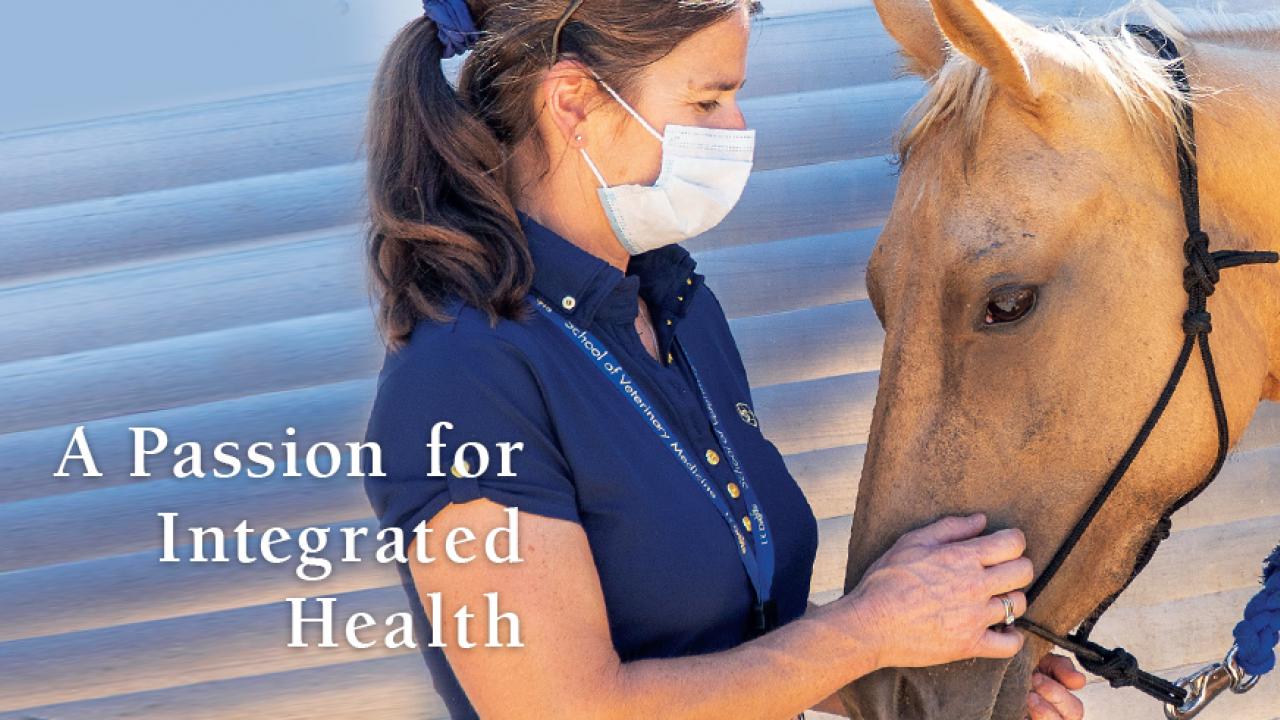 A Passion for Integrated Health
When you learn to ride a horse before you ride a bike, maybe it's just destiny to become an equine veterinarian. That seems to be the case for Dr. Sarah le Jeune, chief of the Equine Integrative Sports Medicine Service at the UC Davis veterinary hospital.
From the minute le Jeune could form a sentence, she told her parents she wanted to be a doctor for horses. Growing up in the Belgian countryside, le Jeune said as a young child that the highlight of her day was watching the horse that was ridden down her street on a regular basis. She started riding at age four and says she "never got out of the saddle."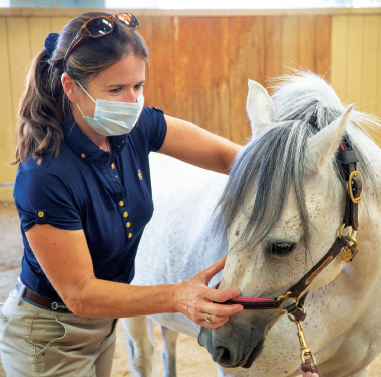 At the age of 13, perseverance and persistence finally earned her the right to her very own horse–a Belgian warmblood named Jenny, that she got as a foal. Years later Jenny joined her in California when le Jeune was offered a long-term position at UC Davis, after a residency in equine surgery. Jenny went on to have a filly, Gertrude, now 14, who gave birth to Rosabella, age 3. Although Jenny has passed, le Jeune still has her "girls" as well as Wiley, an off-the-track Thoroughbred she rescued, and Gaston, a donkey.
"Caring for horses has always been a guiding light for me," le Jeune said. "It's what keeps me grounded."
Just as le Jeune feels committed to bringing healing to our equine companions, she sees that every horse has a purpose, whether that is performing in the Olympics or living as a pet in your back yard.
"My job is to make their job easier," she said. "When you're dealing with someone's pet and sports partner, it's a very genuine goal of making them better."
Le Jeune complements her skills as a surgeon with integrative techniques such as acupuncture, chiropractic adjustments, and saddle fit evaluations. She is dually board-certified in Equine Surgery and Equine Sports Medicine and Rehabilitation, as well as being certified in veterinary acupuncture and chiropractic. She received her veterinary degree from the University of Liege (Belgium) in 1999 and has been a member of the UC Davis faculty since 2003 following her equine surgery residency. Her research interests encompass the field of equine gastro-intestinal disease, general surgery, and equine integrative sports medicine (lameness, acupuncture, chiropractic).
Many clients bring their horses to le Jeune when they're at their wit's end and have tried all the traditional medicine routes.
"I look at horses as athletes in general, whether they are carrying a person on a  trail or jumping big fences," le Jeune said. "Often we need to change the mechanics  of how a horse is moving to strengthen various areas while also controlling pain  and inflammation."
In human medicine, athletes would be referred to physical therapy. In veterinary medicine, animals are referred to veterinary rehabilitation. Le Jeune emphasized that the different integrative modalities aren't a replacement for traditional veterinary care, but can bring pain relief and healing through a holistic approach.
In the course of her day on clinics, le Jeune may see a dozen horses or ponies. Some of her favorite patients are those she has seen come from dire situations to become healthy wonderful companions. On a recent visit, Allison and Gia Gamma brought three of their equines in for care, including Fury, a Shetland pony that Animal Control had seized in April 2019, when she was found severely malnourished and dehydrated by le Jeune and her children. Le Jeune played a key role in caring for Fury and connected her to the Gammas who adopted her last August.
"We appreciate the knowledge and teamwork at UC Davis," Allison said. "It's a one-stop-shop where we can have all issues addressed from hoof care to a neuro exam to a chiropractic adjustment. With Dr. le Jeune and the rest of the staff, we know our horses and ponies are in the best of hands."