Seeing the Benefits of Collaboration
Nearly five years ago, Desi Blondell-Timmerman learned that her Jack Russell terrier Gabriel had corneal endothelial dystrophy (CED), a progressive genetic disease that causes blindness and discomfort.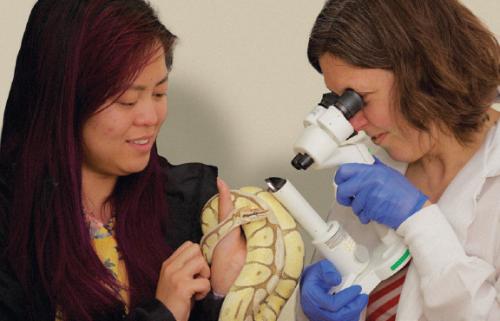 "I was devastated," said Blondell-Timmerman. "He was going to be the stud with which I started my kennel."
With those plans dashed, Blondell-Timmerman enlisted the help of Dr. Sara Thomasy, a UC Davis veterinary ophthalmologist, who was conducting a clinical trial for a new CED treatment drug. Gabriel showed improvement during the trial, and Blondell-Timmerman's breeding community connections enabled her to track down 32 owners of dogs related to Gabriel to also participate in the study.
"After the diagnosis, it became clear to me that Gabriel had a new mission in life as a pioneer in helping future dogs with this disease," said Blondell-Timmerman.
Gabriel and his mother Bijou (who is showing early signs of the disease), have since enrolled in another of Thomasy's CED clinical trials. Early discovery of CED in both dogs gives Thomasy hope that the drugs may be arresting the condition's progress.
Cross Campus Teamwork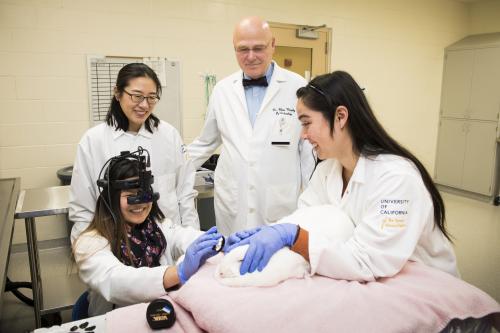 Thomasy is part of a large group of veterinary and human medicine ophthalmologists at the UC Davis School of Veterinary Medicine (SVM) and the UC Davis School of Medicine (SOM) who have a long-standing collaboration to advance eye health through shared research and clinical care. With so many similarities in the eye among different species, there is much to be learned from each other. The collaboration is so intertwined that Thomasy and fellow veterinary ophthalmologist Dr. Christopher Murphy have joint appointments as faculty members of both the SVM and the SOM.
Add in Dr. Brian Leonard and the triumvirate of veterinary ophthalmologists—along with vision scientist Dr. Paul Russell—serve as principal investigators in the Murphy-Russell-Leonard-Thomasy Vision Science Laboratory (MRLT). The highly collaborative interdisciplinary laboratory is the largest academic comparative ophthalmology research unit in veterinary medicine. 
MRLT scientists regularly collaborate with their counterparts in the SOM's Department of Ophthalmology and Vision Science, of which Murphy is a distinguished professor and vice chair. He holds the distinction in veterinary ophthalmology of being the only person to hold a formal corneal fellowship where he saw human patients and having a formal appointment as an executive team member of an ophthalmology department at a medical school.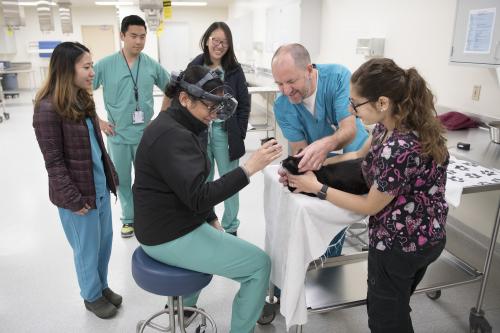 Murphy beams when he discusses the team's leadership in ophthalmic research. He recalls a recent American College of Veterinary Ophthalmology annual meeting where he was asked to be keynote speaker. He invited SOM faculty members Drs. Nandini Gandhi and Mark Mannis to join him for a presentation that "would've been impossible to give without all of us." It demonstrated the breadth of UC Davis' ophthalmology programs and benefitted hundreds of other veterinary ophthalmologists around the country.
"The research coming out of UC Davis is unlike any other veterinary school," Murphy said.
While Murphy has been practicing much longer than his two veterinarian colleagues, the elder statesman of the group is quick to praise Thomasy and Leonard.
"They're the future of this profession," Murphy said. "They're the ones who will be leading this program long after I'm gone."
Thomasy and Leonard have taken leadership roles in research projects, resident training, grand rounds, and other collaborative projects between the two schools. What is learned throughout these efforts greatly benefits both humans and animals, as the veterinarians and physicians see no boundaries between their two entities.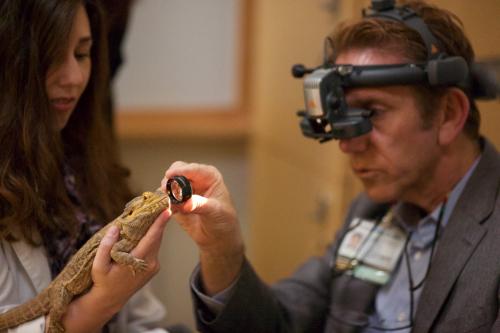 Leonard's research program focuses on the inherent immune properties of the eye, with an emphasis on modulating innate immune proteins to fight off infection. Recently, he has identified a small compound that can dramatically increase these innate immune proteins made by the cells that line the surface of the eye.
Dr. Madeline Yung, a corneal fellow at the SOM, has joined the MRLT to conduct her research with Leonard's mentorship and is exploring the use of this small compound to improve outcomes in corneal transplant patients and augment current eye banking antimicrobial protocols. The research team consisting of Leonard and Yung, along with Yung's mentors at the SOM, Drs. Jennifer Li and Mannis, represent another great example of undertaking missions without boundaries.
An added benefit for animals is the educational training for veterinary ophthalmology residents, who will soon become the next generation of eye specialists. SVM residents participate in weekly joint rounds and monthly grand rounds with SOM physician ophthalmologists. They share training, study the latest challenging cases, and compare best practices. As a former UC Davis resident himself, Leonard knows firsthand how important these joint ventures are for a resident's education and training.
"The topics presented at the SVM/SOM joint rounds have ranged from complex medical management of comparative diseases to advanced surgical techniques and management of difficult cases," Leonard said. "These rounds have helped to shed light on similar challenges that we face as ophthalmologists and provide an opportunity to discuss alternative treatment strategies for the betterment of patients—human and animal alike."
Once a year, the SVM hosts a grand rounds symposium for physician ophthalmologists, where the physicians get to examine animals.
"This is always such a delight for them," Thomasy enthused.
Cross Disciplinary Research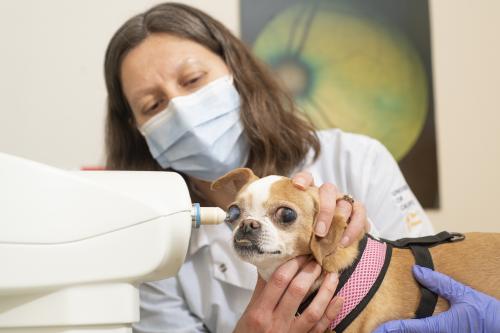 Thomasy explained that she uses these opportunities to network with her SOM colleagues to discuss potential research projects that have common ground in both veterinary and human medicine. This has led to many cross-disciplinary studies. Thomasy is currently working with the SOM's Dr. Ala Moshiri to study achromatopsia and other inheritable retinol diseases; with Dr. Glenn Yiu studying age related macular degeneration; and with Li on corneal surgical techniques.
"Dr. Li recently scrubbed in on one of my surgeries to help with a first-time cornea surgery that proved challenging," said Thomasy. "Having her expertise in the OR was instrumental to that surgery's success. All of these amazing collaborations where we can discuss diseases and treatments, and practice new techniques, are opportunities that force us to think 'outside the box' (that wouldn't happen if we were exclusively with veterinarians)."
These research partnerships have led to many published papers. The majority of the publications are accepted in physician ophthalmology journals, so the audience is wider, increasing the studies' benefits beyond veterinarians.
Direct Impact on Human Medicine
The teamwork has also resulted in direct advancements in human medicine. Both of the latest drugs that are FDA approved for keratoconjunctivitis sicca, or "dry eye," (Restasis and Xiidra) went through pre-clinical trials in dogs. Murphy was heavily involved with the development of Xiidra and was instrumental in collecting data on the veterinary side.
The CED trial in which Gabriel and Bijou are participating may lead to a similar clinical trial for Fuchs CED in humans.
"It's a two-way street," said Thomasy. "Humans benefit from what's learned in animal trials, and animals benefit by what's discovered in human medicine, like corneal surgical techniques routinely performed on humans that will advance vision restoration in animals. We're truly going both directions with knowledge."