Reflections on Leadership and Change (2011-2021)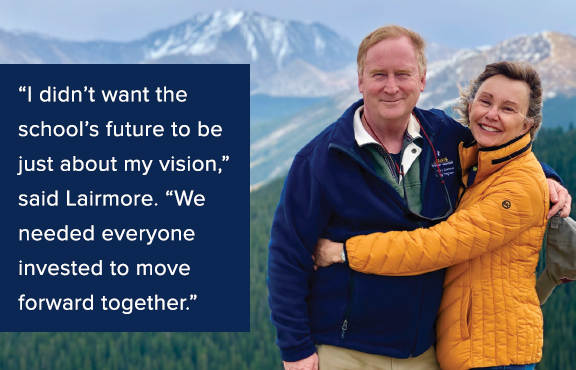 When Dr. Michael Lairmore was recruited as dean of the UC Davis School of Veterinary Medicine in 2011, he was struck with the enormity of the job and the remarkable people and programs he would lead.
"I kept uncovering new, exciting aspects of the school, from outstanding research, educational and clinical programs to renowned diagnostic laboratory networks protecting the food supply," Lairmore said.
Lairmore's career path prepared him well for deanship. He began as a mixed animal practice (dairy and small animal) veterinarian in Southeastern Pennsylvania, earned a PhD in experimental pathology, and became board-certified in pathology and microbiology. His early scientific career at the Centers for Disease Control was during another pandemic, HIV-1-associated AIDS. This training and experience in retrovirology allowed him to pursue a One Health approach as a professor at The Ohio State University and induction as one of the few veterinarians elected to the National Academy of Medicine. Lairmore's research bridged multiple disciplines and provided significant breakthroughs in understanding human retroviruses and viral-associated carcinogenesis.
Under Lairmore's leadership, the school has reached new heights that have brought global recognition, including top placements in US News & World Report and QS World University Rankings. It was well deserved when UC Davis Chancellor Gary May praised Lairmore publicly as "the best dean of veterinary medicine in the business."
Achievements and Milestones
Lairmore started his tenure by leading the first professionally facilitated school-wide strategic planning process, resulting in the School Strategic Plan in 2012 (updated in 2018). The school has kept accountability and transparency through quarterly progress summaries, measured against the plan's goals and tactics.
Under Lairmore's guidance, the school has earned two reaccreditations by the American Veterinary Medical Association's Council of Education, expanded faculty, and created new leadership and development opportunities, building the school's academic and administrative foundation.
His focus on students resulted in increased donor-funded scholarships to lower student debt.  Lairmore marshalled resources to create the Career, Leadership and Wellness Center, and supported new business and financial management courses. Under his direction, mental health resources were expanded and co-located within the veterinary school's campus. He helped facilitate a new academic curriculum and regional collaborations to reward teaching. Lairmore also realized that the school needed fresh approaches to increase diversity, equity, and inclusion. Thanks to many faculty, staff, student groups and campus leadership, the school has become one of the top three national veterinary schools for student diversity, while creating a community-wide effort to promote social justice.
Lairmore worked with Chancellor May and the school's donors to launch a $500 million Veterinary Medical Center campaign in 2017 to expand the existing veterinary hospital and continue providing state-of-the-art care. The campaign has already raised more than $100 million, built and opened the first facilities, and is moving forward to build a new All-Species Imaging Center, Livestock and Field Service Center, and Equine Performance Center. 
Over the past decade, the school worked with the California Department of Food and Agriculture to improve the California Animal Health and Food Safety (CAHFS) laboratory system, including a new facility in Tulare.
"A lot of CAHFS's work will never be known, because when you prevent disease, it's not a story," said Lairmore. "But they've prevented the death of many animals and potentially millions of dollars in loss to California's agricultural economy."
Demonstrating his servant-leadership philosophy, Lairmore has raised the profile of UC Davis through his leadership, most recently as past-president of the American Association of Veterinary Medical Colleges (AAVMC) and as a member of the National Institutes of Health Council of Councils.
"Dr. Lairmore has been a force for progress, innovation and advancement in academic veterinary medicine for years," said AAVMC Chief Executive Officer Dr. Andrew T. Maccabe. "From serving as a strong advocate for One Health to his bridge-building work with the National Institutes of Health and the National Academy of Medicine, his efforts have elevated the stature and visibility of veterinary medicine in Washington, D.C. and around the world."
Advancing the Mission
Through the creation of the One Health Institute, Lairmore realized the scope of the school's global involvement. It inspired him and others to create the Office of Global Programs, which has expanded educational and research opportunities for students and faculty worldwide. Throughout Lairmore's tenure, the school has engaged in numerous partnerships including the unique comparative oncology program within the UC Davis Comprehensive Cancer Center.
In the middle of the pandemic, the school opened the student-run Davis Pet Advocacy and Wellness (PAW): A Clinic for the Pets of the Homeless. It's one example of the expansion of the community outreach programs that have occurred in the past ten years. Lairmore has championed the school and connected the community through his social media presence, and expanded communications and marketing to position UC Davis as a leading voice in academic veterinary medicine.
"There's no veterinary dean I know of in the world who has a better grasp of social media," said Mark D. Markel, a double alumnus of UC Davis (B.S. and DVM) and dean of the University of Wisconsin School of Veterinary Medicine. "I've been incredibly impressed by how great an ambassador Dean Lairmore has been for UC Davis."