Leader in the Making
Madison Luker Class of 2024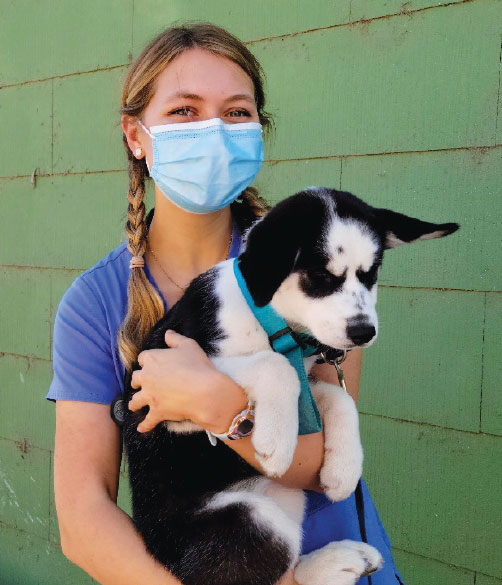 UC Davis veterinary student Madison Luker found entrepreneurial success thanks to a trip that she almost didn't take. In 2018, Luker (then an undergraduate at the Georgia Institute of Technology), participated in the Cornell Animal Health Hackathon, an interdisciplinary event that challenges students to create outside-the-box solutions to veterinary healthcare needs in a constrained time frame.
"I almost didn't go," says Luker. "People questioned why I would make that trip in winter, as a freshman, by myself, to enter a contest I had never participated in."
Fortunately, stepping out of her comfort zone paid off. Her team won the Diagnostic and Client Compliance Panel and Luker earned an invitation to the University of Georgia Animal Health Hackathon.
There, she met University of Georgia veterinary students Greena Kim and Alyssa Gutierrez. They had 48 hours to come up with an idea, business plan, presentation, and prototype of a product that addresses an issue in the veterinary industry. The team was awarded top honors, and a $1,000 prize, in the Human-Animal Bond Panel for AutoMat – a retractable non-slip mat that can self-disinfect. Since then, the team has racked up first place and $10,000 prizes in the Veterinary Entrepreneurship Academy IDEA Competition and the University of Georgia Fabricate Competition, along with third place and $3,000 in the TiE Atlanta Competition.
Luker and her AutoMat co-founders were inspired by their experiences in veterinary clinics with animals that were fearful of slippery exam tables as well the work of Dr. Temple Grandin, a world-renowned animal behaviorist, on the importance of non-slip flooring to help animals feel secure. Solutions such as yoga mats or towels improve traction but are challenging to clean properly and efficiently between patients. The current version of AutoMat has a non-slip mat that can retract into a container with UVC light for disinfection between uses.
AutoMat is being tested at a veterinary clinic in Georgia. By 2025, the team envisions that it will be a staple product for small animal clinics, with use expanding outside of the veterinary field to laboratories, grocery stores, and healthcare facilities by 2030.
"The idea is the exciting part," says Luker. "While the work of bringing your idea to fruition can be laborious, this is ultimately the most fulfilling because you get to see your idea in action, improving the problem you set out to address."
The team is committed to their goals and taking advantage of every opportunity. Luker recently participated in the UC Davis Big Bang! Business Competition and was awarded the $10,000 Animal Health + Industry Sector Award, which will be used to continue advancing AutoMat. Competitions such as these, along with the support that she has found at UC Davis, have enabled her to gather mentors and gain skills for pitch presentations and marketing to investors. 
"UC Davis is incredibly supportive of entrepreneurship," says Luker. "With the right people on your team, it can be an incredibly gratifying experience. Innovation and idea-sharing create better veterinarians and I would love to see more veterinarians have the forum to meet with others and share ideas to improve current practices."
In addition to pursuing her entrepreneurial interests, Luker plans to specialize in comparative oncology, with the goal of developing novel therapeutics that benefit both dogs and humans suffering from cancer.
*The team is seeking investors to expedite AutoMat's entry into the veterinary market. More information, including a video of the AutoMat prototype, is available here.