A Walk on the Wild Side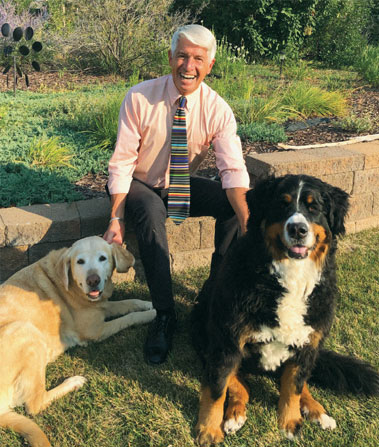 From nearly having his arm swallowed by a 30-foot Burmese python named Samantha, to being in an operating room with a silverback gorilla who woke up early from anesthesia, Dean Mark Stetter enjoys walking on the wild side.  

"One of the things I really like about zoo/wildlife medicine is the challenge it poses and the problem solving it requires," said Stetter,  who assumed the role of dean at the UC Davis School of Veterinary Medicine on October 18 for a five-year term. "In many ways, it is similar to the way I approach the role of a dean. There are lots of challenges and daily problem solving, but making a difference in a positive way is very rewarding."
From a young age, Stetter wanted to be a veterinarian. Citing the TV show "The Undersea World of Jacques Cousteau" as sparking his interest in marine biology, he combined these passions in veterinary school, carving out an early career that included working with manatees, whales, walruses, sharks, and sea turtles.
Stetter's expertise as a board-certified zoo and wildlife veterinarian led him to Walt Disney World, where he was a clinical veterinarian, director of animal health, and director of animal operations over the span of 15 years. He was responsible for overseeing employees and animal collections at Disney's Animal Kingdom Theme Park, The Living Seas at EPCOT, Tri-Circle D Ranch, the Animal Kingdom Lodge, and more, while also helping grow Disney's international conservation efforts.
In 2012, Stetter made the transition to academia, becoming the 10th dean of the College of Veterinary Medicine and Biological Sciences at Colorado State University. Having never been a faculty member before, he admits to being uncertain about how he would be accepted. He reflects that what he found was a world that was sincerely interested in the fresh ideas that he brought from the outside.
During his tenure, the college built 10 buildings to support clinical, education, research, and public outreach activities; raised more than $370 million toward scholarships, endowed positions, research, and facilities; worked with the Colorado legislature to fund debt relief for veterinary graduates; launched a new Diversity, Equity, and Inclusion (DEI) committee and initiated the hiring of a new assistant dean of DEI; launched a medical education program in partnership with the Colorado University School of Medicine; and worked with the provost's office to create a university-wide One Health initiative, among other accomplishments.
More recently, the international reputation of UC Davis as a leader in One Health sparked Stetter's interest in serving as the ninth dean of the veterinary school.
One of the big draws for me has been helping improve the health of animals, people, and the planet. I want to work at a place whose mission and level of excellence allows for the largest impact. That is why I'm excited about being at UC Davis.
Stetter is excited to be part of a team "that ensures that we reach our full potential, as individuals and as a larger community." He sees his overall priorities and philosophy as fitting into two buckets. The first is protecting and growing the already strong UC Davis brand, as measured by credibility, respect, and overall awareness in the public eye. The second is creating and ensuring UC Davis as the "workplace of choice" for faculty, staff, and students, which includes recruiting and retaining the very best employees and students.
"Our school should be where everyone wants to come and work/learn and where everyone wants to work until they retire," said Stetter. "It must be a place where people feel empowered to do their best, and are excited and proud about what they do – a place where workplace culture and climate support diversity, equity, and inclusion."
He also advocates for work-life balance.
"Life is short," Stetter said. "We need to enjoy what we do and have fun and fulfillment in our days."
An avid trail runner, mountain biker, and paddleboarder, Stetter looks forward to experiencing all of the outdoor recreational opportunities that California offers, as well as exploring the Golden State with his wife, Kelly. And of course, as a marine biology hobbyist, he can't wait to get out to the Pacific coastline.